Happy New Year! ✨🐟 ✨ 2022 #SundayFishSketch Collection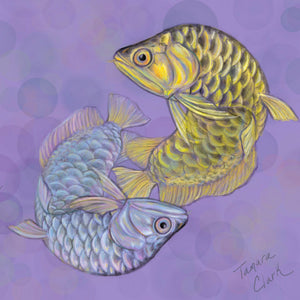 Happy 2023! To help celebrate the new year, here is a collection of my 2022 posts from #SundayFishSketch, a fabulous fishy group of fish illustrators, enthusiasts and researchers, initiated and organized by @lampichthys on Twitter (posts are also on IG). Each week is based around a theme, anything from fish who work hard to luminous fish to fish with tiny eyes. The theme is given on Friday and the posts are made on Sunday- check out this fantastic group at #SundayFishSketch. And feel free to follow me on IG or Twitter at @edenart33 for more. Wishing you a creative, healthy and happy New Year!

Thank you and Enjoy!
💙🌍🐟
1 January, 2023
Happy 2023 #Sundayfishsketch & all! A retweet w a lucky Rose-veiled fairy wrasse from the Maldives for the 'fish discovered in 2022' theme. Wishing you a lucky #newyear w plenty of rainbows!
Thnx for all the inspiration  #HappyNewYear2023 #sciart #newspecies #conservation
5 December, 2022
The marvelous muskie, mystery fish for #25DaysofFishmas day for puzzle and #SundayFishSketch crossover theme. The name muskellunge comes from the Ojibwa for "ugly pike" .
The also descriptive French common name is masquinongé or "elongated mask". #sciart #fishmas #fishsketch
28 November
The wondrous Whale Shark, largest fish in the sea, for #SundayFishSketch tiny eyes theme.

This #endangered gentle giant can reach 40 feet tho its diet consists of tiny things such as plankton, shrimp and small fish.
20 November
#SundayFishSketch adaptation theme. Freshwater stingrays, like other flatfishes, can blend in to surroundings while watching for prey w dorsally oriented eyes. #sciart
I plan to stay but/and you can also find me on IG @edenart33 & http://tamaraclark.com. Thnx 🐟 friends! 💙
13 November
New fish species: Autumnus leafii. #SundayFishSketch fall colors #fishytheme. An elusive and somewhat terrestrial creature, frequenting fields and forests during autumn months. #leafart #funwithfoliage
6 November 
Yaqui catfish for #SundayFishSketch moustached fish theme for #Movember. Endemic to parts of Arizona and Mexico, this living fossil evolved 2 million years ago but is now threatened with extinction.
#sciart #endangeredspecies #conservation #desertfish
23 October
Happy birthday #SundayFishSketch ! And happy Opah-versary! Thanks for the fantastic fishy inspiration @Lampichthys ! and to the wonderful artists and fish fans for making this such a great place to visit every Sunday 🐟💙

 #sciart #sciviz #fishart #opah
17 October
The visually fantastic but widely invasive Lionfish, also known as Turkeyfish due to its flamboyant, fanning fins and venomous spines. #SundayFishSketch and #inktober crossover theme, "fowl".
#sciartober #illustraInk #sciart; fish prompt
---