Exploring the window patterns of the Ibn Tulun Mosque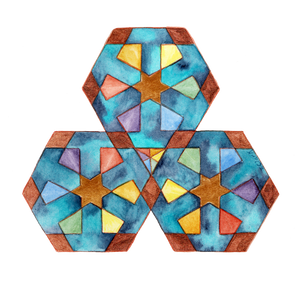 I have been so inspired by the "Drawing Geometry" series of workshops offered through the Prince's School of Traditional Arts, mainly online since early 2020. A recent series, taught by the wonderful Katya Nosyreva explores the patterns of the ancient Ibn Tulun Mosque in Cairo.
This magnificent and light-filled structure has over 100 window grilles, each one with a different, mainly 6-fold, geometry. Each class is an hour and 1/4 and she considers one window for each class. 
Within the session, Katya show us how to develop the pattern based on her previous analysis of its geometry. Using compass and ruler, she leads us through the pattern step by step and it increases in detail and intricacy as we go along. In the end we have (hopefully) a precise background drawing of the day's window pattern which we can then explore further with our own creative input . It is such a beautiful and meditative process and a lovely way to spend an afternoon in the studio. This small segment of pattern came from one of those sessions and the days that followed.
---