Asian elephant (Elephas maximus)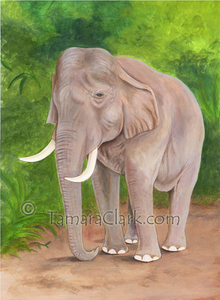 Acrylic
Asian Elephants are one of the largest mammals in the world, requiring vast amounts of land to survive in their natural habitat. They reside primarily in shady forests where they feed on grasses, tree bark, roots and fruits. Elephants travel in large groups and migrate over great distances. These migratory routes are being increasingly blocked by human civilizations, which has the effect of isolating groups of elephants from each other and decreasing their opportunities to breed with other populations. Habitat loss from dense and expanding human populations is an extreme threat, as is poaching for ivory, meat and hide. There are more and more clashes between elephants and people in Asia, with fatalities on both sides. This is a sad development of a relationship that was once honored. Elephants carry a mythological and spiritual importance as can be seen by their presence as a sacred symbol throughout the ages. Though there are still domesticated elephants in Southeast Asia, this species is endangered and is precariously close to extinction in the wild.
Original: available
Project: Commissioned for a collection of exemplar species pages during the launch phase of the Encyclopedia of Life (eol.org) whose goal is to provide information about every species on the planet.
License: Creative Commons Attribution-NonCommercial-ShareAlike
For further re-use, please contact me directly at tam@tamaraclark.com. 
Original: Available

To purchase reproductions
, please visit my
 

Shop page.
Images are available on high quality papers and products with a range of sizes, framing options and styles. Designs are being added to the Shop regularly but if interested in a specific image, let me know and I can move it up in the queue.
If you can't find what you're looking for in the Shop, you can also check out my Redbubble site which has some additional products: edenart.redbubble.com
A portion of proceeds go to support conservation efforts.
For re-use of this image, please contact me directly at tam@tamaraclark.com. Please do not re-use without permission.
---