Channeled Whelk (Busycotypus canaliculatum)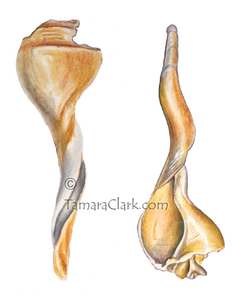 Watercolor
Shells and remnants of the distinctive channeled whelk can be found scattered across many Atlantic beaches. It is a predatory marine sea snail, feeding on hard shelled clams which it opens with the side of its shell. The whelk, or conch, is a member of the phylum Mollusca which also includes the squid and octopus. Unlike those shell-less creatures, the whelk is a 'gastropod': it lives inside a single spiral shell which it can retreat into for protection. Gastropod literally means 'belly foot' which refers to the fact that its internal organs are covered by a thick muscular tissue or foot which it also uses to drag itself across the sand.
To purchase reproductions, please visit my Shop page. Images are available on high quality papers and products with a range of sizes, framing options and styles. Designs are being added to the Shop regularly but if interested in a specific image, let me know and I can move it up in the queue.
If you can't find what you're looking for in the Shop, you can also check out my Redbubble site which has some additional products: edenart.redbubble.com
A portion of proceeds go to support conservation efforts.
 For re-use of this image, please contact me directly at tam@tamaraclark.com. Please do not re-use without permission.
---