Common Kingfisher (Alcedo atthis)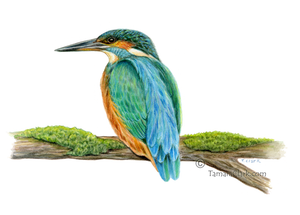 Watercolor
The brilliant and elusive Kingfisher is a treasured resident of the rivers and streams of the Test Valley and many parts of Europe, Asia and North America. It is notable for its diving and fishing skills and has special eye sight to allow it to see prey underwater. It nests in burrows along the riverbanks.
Original: sold
To purchase reproductions, please go to Shop link below. Images are available on high quality papers and products with a range of sizes, framing options and styles. 
A portion of proceeds go to support conservation efforts.

Go to Products
If you can't find what you're looking for in the Shop, you can also check out my Redbubble site which has some additional products: edenart.redbubble.com
For re-use of this image, please contact me directly at tam@tamaraclark.com. Please do not re-use without permission.
---