Deathcap Mushroom (Amanita phalloides)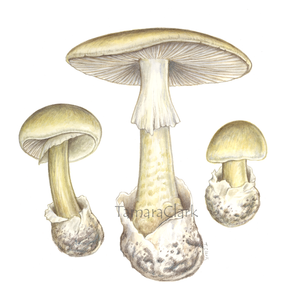 Watercolor
The death cap mushroom, as evidenced from its name, is one of the most deadly and toxic mushrooms in the world. It is pale and common in appearance, with a close resemblance to several edible species (caesar's and straw mushroom), making it confusing to even skilled mushroom collectors and dangerous to those seeking culinary adventures. It is widely distributed across Europe and has been accidentally introduced in some places due to its associations with various non-native oak, chestnut and other tree species. Amanita, like most mushrooms, form "ectomycorrhizal" networks with plants, an important relationship which moves nutrients between the plant and the fungus and throughout layers of soil.
For more about this species, visit the Woodland Trust >> 
Project: Commissioned for a collection of exemplar species pages during the launch phase of the Encyclopedia of Life (eol.org) whose goal is to provide information about every species on the planet.
License: Creative Commons Attribution-NonCommercial-ShareAlike
For further re-use, please contact me directly at tam@tamaraclark.com. 
Original: Sold

To purchase reproductions
, please visit my Shop page below
.
Images are available on high quality papers and products with a range of sizes, framing options and styles. 
A portion of proceeds go to support conservation efforts.
If you can't find what you're looking for in the Shop, you can also check out my Redbubble site which has some additional products: edenart.redbubble.com
---