Green Anole Lizard (Anolis carolinensis)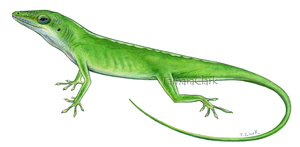 Watercolor and colored pencil
The Green Anole Lizard is found in parts of southeast United States and is the only Anole species native to America. It grows to around 8 inches and both males and females can change color, from green to greyish brown. Like some other lizard species, the Green Anole can regenerate their tails, which is quite handy as territorial squabbles can be quite aggressive. For more about this species, visit Animal Diversity Web>>
Project: Commissioned for a collection of exemplar species pages during the launch phase of the Encyclopedia of Life (eol.org) whose goal is to provide information about every species on the planet.
License: Creative Commons Attribution-NonCommercial-ShareAlike
For further re-use, please contact me directly at tam@tamaraclark.com. 

Original: Available
To purchase reproductions, please visit my Shop page below. Images are available on high quality papers and products with a range of sizes, framing options and styles. 
A portion of proceeds go to support conservation efforts.
If you can't find what you're looking for in the Shop, you can also check out my Redbubble site which has some additional products: edenart.redbubble.com
---