Horseshoe Crab (Limulus polyphemus) (juvenile)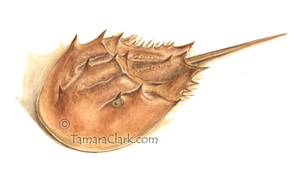 Watercolor and colored pencil
Horseshoe crabs belong to the phylum Arthropoda, in the family Limulidae, and are actually more closely related to spiders than other marine invertebrates. They are one of the most primitive groups of animals, surviving relatively unchanged for hundreds of millions of years, and their natural history is one fascinating chapter in the story of evolution.
These ancient creatures possess ten eyes which are especially useful during the full moon when they move onto the beach, sometimes by the thousands, to mate. Their sensory perception is the focus of much current research, as are several unique physiological qualities which make them a valuable subject to biomedical science. Until the 1960s, they were gathered en masse and used as fertilizer. These and other pressures have been detrimental to horseshoe crab populations, but much focus has gone toward their conservation, due to their unique biology and place in the marine environment. For more about this species, visit MarineBio Conservation Society>>
Watch this fascinating Sci Shoot about Horseshoe crab biology presented by David Remsen, Director of the Marine Resources Center at the Marine Biological Laboratory, Woods Hole, MA
Original: Sold
To purchase reproductions, please visit my Shop page. Images are available on high quality papers and products with a range of sizes, framing options and styles. Designs are being added to the Shop regularly but if interested in a specific image, let me know and I can move it up in the queue.
If you can't find what you're looking for in the Shop, you can also check out my Redbubble site which has some additional products: edenart.redbubble.com
A portion of proceeds go to support conservation efforts.
For re-use of this image, please contact me directly at tam@tamaraclark.com. Please do not re-use without permission.
---