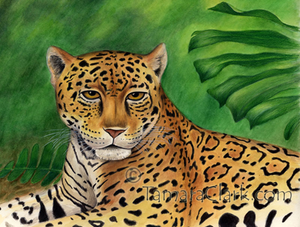 Watercolor and colored pencil
The name Jaguar comes from the South American Indian word "yaguara," meaning "carnivore that overcomes prey with a single bound." It is the third largest feline in the world, reaching up to 8 feet in length from nose to tail, with a diverse diet of wild pigs and deer, sloths, caymans, tapirs, monkeys, freshwater fish, birds, reptiles, amphibians and other small animals.
The Jaguar's range historically included parts of the southwestern U.S. but since the mid-1800's, populations have been pushed south due to hunting, deforestation and development. There are only an estimated 1500 Jaguars left in the wild, most in Central America and northern South America where they have historically been tied closely to the mythology of the culture, even worshipped as gods. Efforts by energy companies to dam tropical river valleys could be severely detrimental to remaining individuals, as well as to a host of other tropical and endangered species. For more about this species, visit the National Geographic >>
Hopeful news: Recent 2021 findings show a handful of jaguars making their way into Arizona again, possibly expanding from a breeding population in Sonora, Mexico.
Read the news from National Geographic >>
To purchase reproductions, please visit my Shop page below. Images are available on high quality papers and products with a range of sizes, framing options and styles. 
A portion of proceeds go to support conservation efforts.

Go to Product Page
If you can't find what you're looking for in the Shop, you can also check out my Redbubble site which has some additional products: edenart.redbubble.com
For re-use of this image, please contact me directly at tam@tamaraclark.com. Please do not re-use without permission.
---