Mahi Mahi (Coryphaena hippurus)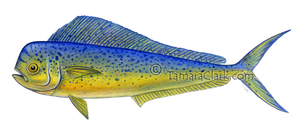 Watercolor and colored pencil
Mahi mahi are found in tropical, subtropical and temperate surface waters worldwide and have many different names depending on where they are found. They are also known as dorado and dolphinfish, though they are not related to the marine mammals we call dolphins. In Hawaiian mahi mahi means 'strong fish', an apt description for this large, beautiful and popular sport fish. The Spanish call it dorado maverikos or 'golden maverick' which may refer to its behavior in the sea, as well as its tendency to shift color and hue after it is pulled out of the water, when it will eventually fade to a pale yellow-grey.
Project: Commission for high-end seafood restaurant as part of their sustainability information. Available for re-use
Original: sold
To purchase reproductions, please visit Shop page below. Images are available on high quality papers and products with a range of sizes, framing options and styles. 
A portion of proceeds go to support conservation efforts.

Go to Products
If you can't find what you're looking for in the Shop, you can also check out my Redbubble site which has some additional products: edenart.redbubble.com
For re-use of this image, please contact me directly at tam@tamaraclark.com. Please do not re-use without permission.
---