Moonsnail (Lunatia heros)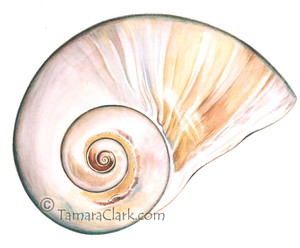 Watercolor
The moon snail is a member of the phylum Mollusca which also includes the squid and octopus. Unlike those shell-less creatures, the moon snail is a 'Gastropod': it lives inside a single spiral shell and extends its large foot out of its body. Moon snails make their mark with the small neat holes that are formed when they drill into the shells of their prey. You may also notice their collar shaped egg masses which are deposited in the sand and can be seen at low tide.
Original: Available


To purchase reproductions, please visit Shop page. Images are available on high quality papers and products with a range of sizes, framing options and styles.
If you can't find what you're looking for in the Shop, you can also check out my Redbubble site which has some additional products: edenart.redbubble.com
%3 to Conservation projects from every sale in the shop 🌍
For re-use of this image, please contact me directly at tam@tamaraclark.com. Please do not re-use without permission.
---