Northern Lobster (Homarus americanus)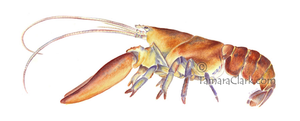 Watercolor
Lobsters are members of the phylum Arthropoda, one of the most successful groups of animals in the world. Two thirds of all know organisms are Arthropods. Most of these are insects, but they also include spiders, scorpions, barnacles and the extinct trilobite.
These colorful 'Crustaceans', aside from being an important staple to the fishing industry and a culinary treat, are also an interesting research subject due to their 'chemosensory perception' which allows them to sense and find food and predators, as well as other lobsters.
Original: Sold


To purchase reproductions, please visit my Shop page. Images are available on high quality papers and products with a range of sizes, framing options and styles. Designs are being added to the Shop regularly but if interested in a specific image, let me know and I can move it up in the queue.
A portion of proceeds go to support conservation efforts.
If you can't find what you're looking for in the Shop, you can also check out my Redbubble site which has some additional products: edenart.redbubble.com
For re-use of this image, please contact me directly at tam@tamaraclark.com. Please do not re-use without permission.
---