Orangutan (Pongo pygmaeus)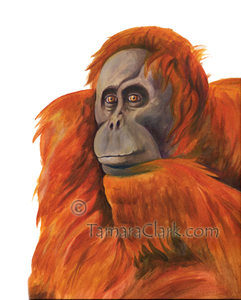 Acrylic
The name Orang-utan literally means "forest person". These endangered primates, the largest of the tree-dwelling mammals, are extremely intelligent and also in dire need of protection, as more and more of their habitat is being lost to human development. They are found only on the islands of Borneo and Sumatra in the islands of Indonesia, though it is thought that they once ranged throughout much of Southeast Asia. Because the Orang-utan lives primarily in forest ecosystems, the type of agriculture which involves clearing large tracts of land, and has been commonly practiced in recent decades, is detrimental.
Orang-utans spend most of their time in the trees, whether nesting, feeding on a diet of fruits, plants and insects, or socializing. When a female gives birth, it will be to a single young which it will spend the next 3 to 4 years raising before it can be weaned. Orang-utans move through the trees by walking or swinging with their long notable arms, which can reach down to their feet when standing. They are quite solitary by nature and tend to travel alone or in small groups.

To purchase reproductions, please visit my Shop page. Images are available on high quality papers and products with a range of sizes, framing options and styles. Designs are being added to the Shop regularly but if interested in a specific image, let me know and I can move it up in the queue.
If you can't find what you're looking for in the Shop, you can also check out my Redbubble site which has some additional products: edenart.redbubble.com
A portion of proceeds go to support conservation efforts.
For re-use of this image, please contact me directly at tam@tamaraclark.com. Please do not re-use without permission.
---