Red-eyed Tree Frog (Agalychnis callidryas)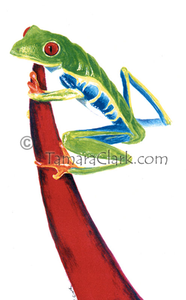 Acrylic
This species' scientific name (Agalychnis callidryas) comes from the greek words for beautiful (kalos) and wood nymph (dryas). It is an arboreal amphibian found in tropical rainforests, from Mexico to Columbia. Though it is not poisonous, its bright colors may distract predators and provide camouflage in its leafy surroundings. It prefers habitats near rivers and streams where it will lay its eggs under leaves. When they hatch the tadpoles will then be released into the water with help from the fluid inside the eggs. For more about this species, visit rainforestanimals.net>>
To purchase reproductions, please visit my Shop page. Images are available on high quality papers and products with a range of sizes, framing options and styles. Designs are being added to the Shop regularly but if interested in a specific image, let me know and I can move it up in the queue.
If you can't find what you're looking for in the Shop, you can also check out my Redbubble site which has some additional products: edenart.redbubble.com
A portion of proceeds go to support conservation efforts.
For re-use of this image, please contact me directly at tam@tamaraclark.com. Please do not re-use without permission.
---