Red Admiral Butterfly (Vanessa atalanta)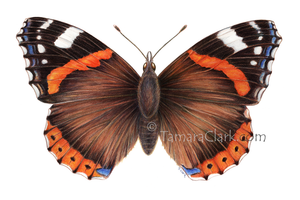 Watercolor and colored pencil
The Red Admiral butterfly, with its dark wings and distinctive red bands, is one of the most well known of the European butterflies. Easy to spot during summer months, it is actually a migrant to the British Isles, though there are now small resident populations which overwinter in southern areas where temperatures can sustain them. An adaptable species, it can be found in most habitat types throughout Britain.
Original: available
To purchase reproductions, go to Shop page link below. Images are available on high quality papers and products with a range of sizes, framing options and styles.
A portion of proceeds go to support conservation efforts.


If you can't find what you're looking for in the Shop, you can also check out my Redbubble site which has some additional products: edenart.redbubble.com

For re-use of this image, please contact me directly at tam@tamaraclark.com. Please do not re-use without permission.
---